June 06 2019
Is it Expensive?
Video advertising today is the most expensive type of advertising and there are a number of objective reasons for this. But still, customers always try to find a loophole and reduce their budget expenditures, while hoping for huge coverage and high efficiency. However, this is really difficult to do if you do not want to lose the quality of the final product. In this article, we will describe in general terms how the budget is distributed to video advertising and try to explain why it is not worth saving.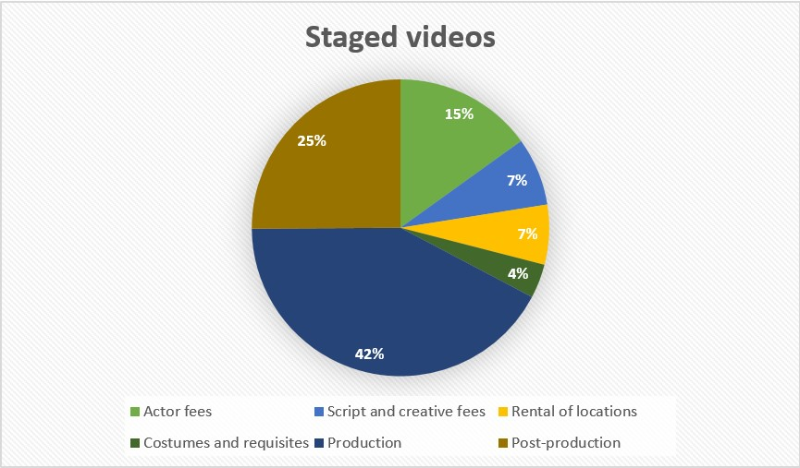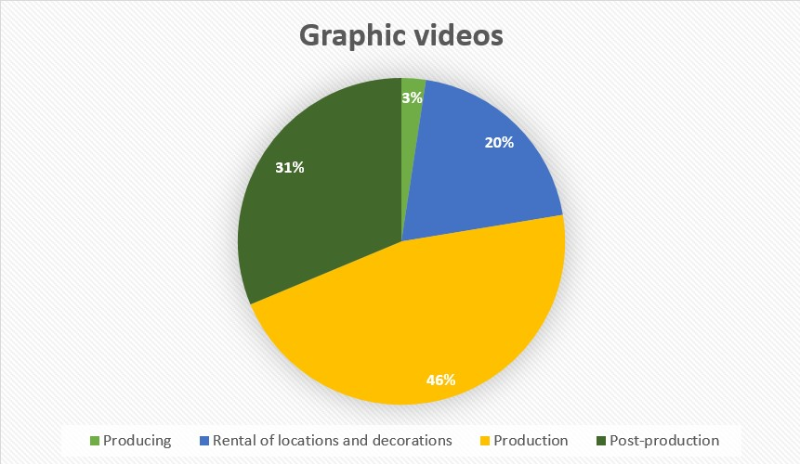 If you look at these graphs, the conclusion is automatically suggested that you can save on actors' fees. But we categorically do not recommend this. Yes, you can use employees and passers-by in the commercials, but you run the risk of slipping to the level of school productions, which will in no way increase the loyalty of your potential audience. It is more logical to invite public persons, or already professional actors, who know exactly how to behave in front of the camera and understand the requirements of the director. In addition to the "weak" pictures, you risk losing most of the day of shooting. Is such a savings worth the candle?
Graphic videos imply subject shooting or animation. Yes, on the one hand, you can do without actors here, but for such projects food stylists, requisites, production artists, sometimes animation artists are attracted, which also requires fees. In addition, subject shooting can not be used for all services, and animation often causes a prejudice, especially among adults - you can not always promote your company and with the help of funny cartoons.
In general, this is another mystery of humanity, worse than the Mariana Trench - why does the customer think that the poorly made clip for the Internet is what the doctor prescribed? The client will meet with your company, products, personally through the information that he will visually receive. Do you think that to look presentable, tasteful and bright is bad idea? Come to us, we can discuss it.